I was busy...so sue me :)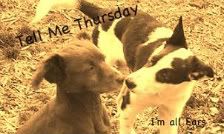 1. What are you thankful for this week?
I'm thankful for good friends...without them, I'm not sure what I would do!!!!! I'm thankful for Bacon, yes bacon, I love it's yummy goodness. I'm thankful my building so I don't have to stand in the rain/wind/snow this winter.
2. How do you deal with a sqeaker/shrieker/noisy dog?
Beat them...just kidding :) I try not to let them develop into that to begin with. I usually just tell them to knock it off...and reward for being quiet. Does it always work...nope...do my dogs bark when I am running another dog, yes. How do I stop that? Not sure...I've given up :)
3. Barbara wants to know: what would you say is ONE skill or attribute needed to be successful?
NOT AFRAID OF FAILURE---laugh at yourself, realize you're gonna suck sometimes, and learn from failure. Failure is JUST FEEDBACK. Move on, try harder and don't be afraid of falling on your face. It's gonna happen. That's OK :)
4. Pippin wants to know: what are your favorite games?
Games....um...well, I play the Wii...not into board games much...cards...ehhhhh it's ok...probably Paintball is my favorite game, fast, lots of action and you can cause pain :) Mwahahahahahaha!!!!
5. What are some of your strategies for dealing with winter?
HAHAHAHA!!!!!!! What DON'T I do?!?!?!
Lets see...heater in bathroom when I am showering, electric blankets are like tribbles on Star Trek...they're everywhere...I wish they would breed honestly. I can always use more because, believe it or not, I burn out at least one blanket each winter. LAYERS upon LAYERS of clothing...always. I wish we had a fireplace...damn.
Lots of hot tea (I hate coffee)...LOTS OF HOT TEA. And my newest thing? A heated jacket...has a rechargeable battery....it's LOVELY. I want a full heated body suit now...
And of course....I just try not to go out in the cold if I can...I hate the cold!!!!!! YUCK!!!!!!!!!!!
But those things help me deal with it better :)