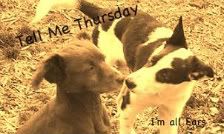 I decided to join in on Crooks and Crazies Tell Me Thursday :) It sounds fun and why not right?? Thanks Laura!!!

Ok. Questions for today:

1. How do you teach recalls to your dogs?
I use treats, puppy on leash starting out, recall command then treat. Build up a long schedule of reinforcement on that. Then, go off leash...build up more reinforcement...then when they have a solid concept of the requirements, I will start adding a correction when the pup doesn't respond. It is normally in the form of a verbal HEY! Followed by walking towards them, putting pressure on. I don't have to do it more than a few times. Once I have that...I start running them with the pack and do the same thing. Requiring a recall immediately. They get it due to all the previous training. I am a firm believer that a recall is a life saving situation and the dog MUST COME WHEN CALLED. End of story.
2. What is your favorite Restaurant or type of food? Clearly I have food on the brain much of the time.
My favorite type of food...Ice cream. I love LOVE LOVE ice cream. Restaurant...probably this Thai place in St. Cloud called Sawatdee...yummmm....or steak. I love steak. Or Red Lobster...I just love food...is that a problem?? :) My favorite "feel good" food is cotton candy...I LOVE COTTON CANDY. AHHHHHHHHH
3. What is your favorite interest outside of dogs/livestock/sports?
I love fishing and playing guitar. I find both of them super relaxing and just fun. Guitar is challenging and the fun thing about playing the guitar is, the progress I make has EVERYTHING to do with me, good or bad. The dog variable isn't an issue...it's refreshing to have something like that :) In fact was able to do my first jam session with another person playing...what a RUSH!!
4. Describe your path from where you started out to where you are now! (For example, how did you get from Novice to Open? How long did it take? Train dogs? Buy dogs? I'll take answers for any sort of discipline, or even how did you go from wild dog that didn't listen to well behaved dog - interpret this however you like.) This question was suggested by Pippin.
I started out with my old dog Ace, a rescue in 2003...we did obedience and agility. I then got Zip, who introduced me to herding and all the fun things that entailed...and then I got more dogs...all my dogs were raised as pups, Zip, Klink, Gator and Ace were all purchased. I bred Lynn and Even. There are so many little paths that have been apart of that...no idea where to even start :) Or end...so I'll just stop now :)

5. Is there a dog that you raised that, if you knew then what you know now, you would have raised them differently? Question posed by Jodi.

YES. If I had to do things over again, I would raise Zip differently. I raised her to think she was a princess and almost ALL with no correction. I wish I would have taught her as a pup to take correction, would have made training much easier and I had to learn the hard way on that. I think balanced training is the way to go, for me anyway...and I think if I would have known that, the rough patches Zip and I hit along the way wouldn't have happened :) But...she's 8 and listens most of the time :)
This is a fun little game!! :)